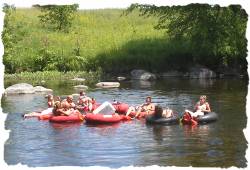 Tubing and Canoe Trips - Tube or canoe on the picturesque Little Wolf River during the warm months. Wolf River Trips rents tubes and canoes and shuttles you to a starting point up river. You then leisurely float your way back to their beach.
Restaurants & Supper Clubs - View a local dining guide to find a variety of foods.
Golfing - Besides the Shamrock Heights Golf and Supper Club at New London, there are many other courses within a nearby radius.
Nature Center - The 430 acre Mosquito Hill Nature Center includes exhibit areas, natural history displays, an events calendar, and an art gallery. A butterfly house is open at scheduled times from July through August. Three miles of hiking trails includes a loop to scenic overlooks. The winter snow season provides five miles of snowshoe trails and an un-groomed cross-country trail for skiing.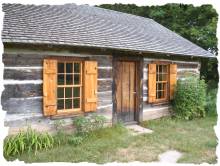 Historical Village/Railroad Museum - Tour 5 historic buildings, climb aboard railroad rolling stock, and browse railway memorabilia at the Heritage Historical Village. Open 1st and 3rd Sundays June thru August. Also hosts a Heritage Days & Rail Fest event in August.
Spa, Massage and Salons - New London has various locations for pampering yourself while away from home!
Water Skiing Show - It's just a short drive to Fremont to see the Webfooters ski show. Watch the team perform pyramids, ballet, jump, barefoot and doubles acts. View their schedule.

New London's Tourism Guide provides an overview of things to do at New London.

New London's Homepage is a great site to find out all you'd ever want to know and then some about New London.

Homeworks provides building and finishing services in the Waupaca, Fox Cities and the surrounding Communities.

Need some new Mary Kay products or like to book a private party for your stay at Antiques With Inn?

Wisconsin's Premier Online Magazine for Women.